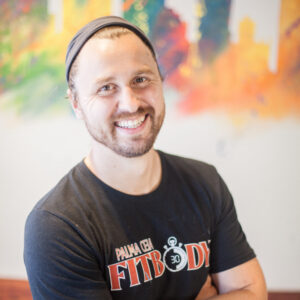 Joel Metzger was born in the beautiful city of Flint, Michigan, to a single mother who taught him from an early age that determination and perseverance are qualities which overcome obstacles. Joel's deep love and respect for his mother has sustained him through whatever life has thrown his way. Due to his upbringing, Joel retains a positive "always looking forward" adventurous attitude. His mother had strong support from her brothers, and in fact, they became role models for Joel during family gatherings and Summer camping trips.
Joel graduated high school in 2004 with a strong desire to join the Navy, which followed in the footsteps of his uncles and Grandfather. But instead, he ultimately chose to follow another pursuit in the culinary arts. This focus fueled a new passion for nutrition and health that soon landed him in Tampa, Fl., with his brother. Through his focus on health and nutrition and his brother's restaurant management experience, they become experts within their niche of the food industry. However, the opportunity to serve in the United States Navy was never lost on Joel. One day, he walked into a Naval recruiting office to be a cook and being the adventurous/extreme type person he is, it didn't take long for Joel to shift his focus to becoming a Navy Seal. He spent a year working with a former Navy SEAL that helped prepare him for BUD's (the 6-month SEAL training course). Joel Dropped on Request (DOR'd) during the BUDs training in Coronado, California; admitting his mental capacity to withstand the pain and rigors of SEAL training had not been sufficiently developed, but still accredits his positive outlook and attitude towards life challenges to the lessons he learned while training in BUDs.
Joel sustained injuries during his mission to become a Navy Seal, like multi-lumbar disc problems and arthritis in the hips. Still, he was given the opportunity to stay in the Special Warfare Community as a Rescue Swimmer, which led to graduating Rescue Swimmer school in 2009. Joel finished his Naval career on the USS Carl Vinson (CVN 70). His first deployment with CVN 70 was during the Haiti Earthquake in early January 2010. CVN 70 was the first emergency response to Haiti. They became the primary hospital for medevacs and the only source of food and water until the Red Cross arrived. His last deployment was during Operation Enduring Freedom in which Operation Neptune Spear (Osama Bin Laden's assassination) was accomplished in early May 2011. Joel was actually on deployment with CVN 70 when SEAL team six brought the body of Osama Bin Laden to the carrier. With his military contract coming to a close, he set about on a 2-year transformation, which included a healthy, active and intense lifestyle. His focus on health and fitness created a following with his peers, and he developed new and diverse ways to help others reach their health goals.
After being honorably discharged from the Navy in September 2011, he immediately attended the National Academy of Sports Medicine and became a certified personal trainer. He followed up by enrolling in the Human Performance Undergraduate Bachelor Program at The University of Tampa. It didn't take long for him to make the University of Tampa his second home, which started by becoming the Head Trainer on campus. Within his first semester, he was working with Dr. Jacob Wilson and ended up working with Dr. Wilson throughout his entire undergrad program. Helping Joel make career-directional decisions along the way was his mentor, Kim Morris.
Joel surrounded himself in all of the aspects of health and wellness. He made sure that every class he took and every move he made led him to a better understanding of how to improve the longevity of people's lives. Food and nutrition, mental motivation, and pain management became his primary focus. Joel became well established at the University as well as in the city by offering boot camps and personal training in the many local parks that Tampa has to offer. Working in the human performance lab at the University of Tampa is where Joel met Richard Pearce. Joel Metzger and Steven Weiner performed the preliminary studies associated with The BullFrog. Joel still trained as though he was training to become a Navy Seal so when the BullFrog put him on his back within 2 minutes, he became a fan. He immediately noticed the cardiovascular and conditioning benefits, and shortly after testing, Joel ventured off to use the BullFrog prototype on his own clients. This was when Joel fully understood the potential that the BullFrog had. Since 2013, Joel has been working relentlessly with Richard on Product Development and Production Management, and now works full-time with Frog Fitness as the Chief of R&D, as well as Frog's resident Kinesiologist.