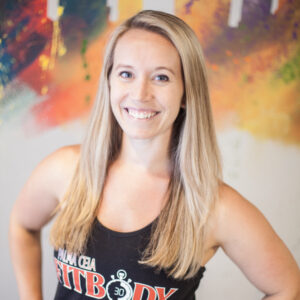 Stephanie Metzger loves improving the quality of other's lives through fitness. She focuses on complex resistance training to help people consistently improve themselves over the long term.
While growing up in New Jersey, Stephanie was always active. She played soccer, basketball, softball, and ran track. However, dance was her ultimate passion! She loved how she felt after a class. Anything that was bothering her before, no longer felt as stressful afterwards. Some of her favorite classes were when the teacher simply focused on dance conditioning. She loved that she could see direct results from her training in her dance technique.
Stephanie used what she had learned in class to develop her own fitness routines outside of the studio. She began doing the workouts alone and slowly but surely, friends and family would tag along. Stephanie then realized that she had a passion for creating programs for others that made them feel good, inside and out.
When Stephanie left New Jersey to go to school at the University of Tampa in Tampa, Florida, her passion for fitness grew! She began doing bootcamps for her sorority sisters and fellow dancers. While on the dance team, she was the Health and Fitness Director. Stephanie organized team workouts twice a week. Not only did that make the dancers stronger, it was a great bonding time for her team!
While at UT, Stephanie spent a lot of time in the human performance lab, participating in studies and broadening her knowledge of health and wellness. She met skilled professionals whom she worked with to create programs that would get the non-dancer a "dancer's bod" and get a dancer to the next level in their career.
In the lab, Stephanie also met her now husband, Joel! Her name is Ariya and she has become their motivation to stay active. Besides being pretty tired, Stephanie remained as active as she could during her pregnancy which she believes helped greatly with her labor. Stephanie taught her last class a week before Ariya was born! After having Ariya, she felt extremely comfortable coaching other women through their pregnancy and postpartum since she has had the experience. Stephanie is now pregnant with baby number two, Hudson! From her experience with her first pregnancy, she took on many prenatal members to help them stay active during their pregnancy.
Stephanie really wants to help other moms recognize their abilities and gain confidence through fitness, just like she did. That is why she decided to open Palma Ceia Fit Body! The dedication each owner has to changing lives is in line with the services we want to provide our community.
At Palma Ceia Fit Body, we are driven by results and our trainers will support you to be proud of your capabilities each and every time you come for a workout! Stephanie is extremely grateful for the opportunity to do what she loves day after day. PC Fit Body is a family and welcomes all fitness levels. We look forward to helping you on your unique fitness journey.